The Soundcloud Bible
Budi Voogt is a specialist in online music marketing. But he also runs a record label and manages artists. Budi asked me to help with positioning his various activities. How do you make it simple for people to understand what you do and focus enough to become really good at something ?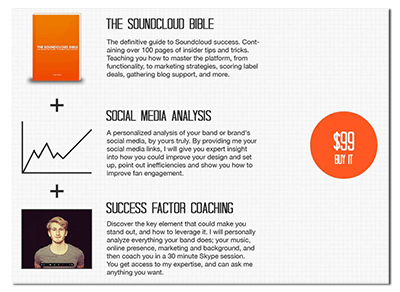 To help artists, he wrote down his best practices in working with the premier channel for music, Soundcloud. We zoomed in on how to boost the buzz for the Soundcloud Bible itself. A simple solution: a 'Kickstarter' type of offering to backers: offer combinations of buying the book and getting tangible custom advice such as a social mdia analysis of your music/artist brand. This way the books becomes more interesting and clients get to try the rest of what Budi has to offer.
"The Soundcloud Bible is the rarest of species: a great handbook to help you master the quintessential music marketing channel and an intuitive summary of 'music & business 101' at the same time. Musthave for anyone in the music industry"
Check out his website for more.